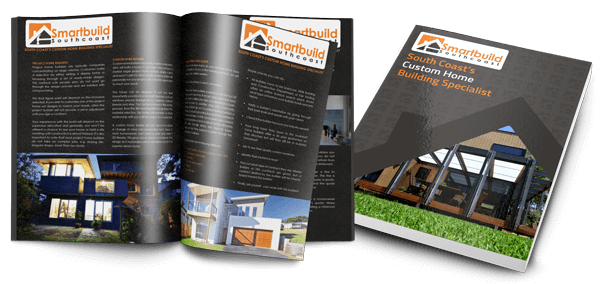 Our team of tradespeople, builders and industry professionals provide a range of high quality professional services including:
Here at Smartbuild South Coast we have strong professional relationships with the leading architects, draftsmen and engineers, so we are always ready to start your custom build.
Smartbuild South Coast is building an enviable reputation as the reliable, highly trained team best placed to assist you in all aspects of your custom build. With our proven reputation for professionalism and expertise you can rest easy and trust us to turn your vision into reality. Contact us now and learn how we can help you build a better home.
Since 2012 we have worked hard to build a reputation as the leading professionals when it comes to constructing custom homes. Our entire team has been handpicked to ensure that when it comes to turning your vision for your custom home into reality we provide only the highest quality service. Our talented and professional home builders have worked across the Illawarra region, delivering beautiful and functional homes, renovations and extensions.
Building custom homes is our specialty, and because of that you know that we can guarantee that your home will be built with a level of care and quality only we can provide.
Contact the South Coast's Trusted Builders About Your Dream Project
Discover why more Illawarra and South Coast residents are choosing the Smartbuild team for their custom home builds and renovation projects. Take the first step towards your home dream. Reach out to our friendly and professional team today by calling 0431 388 059 or by using our online contact form.

Lesley and Peter Cox
In 2016 Jake Brady, builder, and proprietor of Smartbuild South Coast undertook  renovations to our house in Gerringong.  These amounted to removing and replacing its original external fabric, roofing, wall cladding, windows and doors which had all begun to fail after more than 45 years exposure in a seaside location.
Christine and Bryan
Jake Brady and his team at Smartbuild South Coast were recommended to us by our architect. It was very good advice.Smartbuild undertook the very extensive renovations at our holiday home in Gerroa. Jake owned the whole project. He kept us fully informed at all times including prospectively as the work progressed.
Elaine Aber
Wanted to formally thank you and your team for doing an excellent job building my parents granny flat.You helped my parents wade through the complicated requirements from the council and showed empathy and understanding to my parents when they got frustrated with all the council regulations and took the time to explain what was required...
Paul Sharrad
We are delighted with the work Smartbuild South Coast has done for usJake was thorough in quoting, highly efficient in managing his team to ensure steady movement towards completion, flexible in meeting changes in plans, and inventive in dealing with unexpected difficulties in modifying an old building to new designs.He attended to fine details and was always pleasant with his relations with everyone.
Colin Irwin
Smartbuild South Coast was selected from local builders to construct a complex two storey alteration and addition to our clients Woonona home.The Project was completed to the entire satisfaction of both our client and the team at I Architecture.Working closely with the firms Director, Jacob Brady, we appreciate the attention to detail and the efficiency of his operations.He was able to deliver a cost competitive architectural project to a very high standard.